Aleksi Ikonen, Project Manager & Partner Manager
THE MOST RECENT STEPS IN MY MIPRO CAREER PATH
Upgrade to my career story 2
My job as a product owner of AR solutions was complemented with further responsibilities in less than a year. The MISONET control room system, which is most widely used of our products, was added to my range of responsibilities as well. It was totally different to launch a new product than to take over the challenges of a system entity that has experienced many generation changes.
I was involved in product management tasks for about two years in total. Due to organisational changes I moved on mainly to other challenges and tasks. My new job is composed of sales work, project management and development of the organisation. Needless to say that this job allows me to learn new things and find versatile view angles on a total new scale. In general, I have had, along with my job, a front-row seat to observe Finnish water supply in such a way which only a few have the opportunity for. Furthermore, I have been able to directly jump to the responsible role of working life. Coffee making has not been the junior's job in my case.
FROM SUMMER WORKER TO PRODUCT OWNER
Upgrade to my career path 1
My thesis work, which was related to improving the safety systems and continuity management at waterworks, was accomplished in the early winter 2017 within about five months and was graded as outstanding. My school path was over, but my career story at Mipro was just starting. We discussed about job possibilities with my supervisor already before my thesis work was accomplished so I had done something correctly.
My job description was specified along with the discussions and in the spring 2017 I was able to start as the product owner of Mipro's new product line, AR solutions. The job is also called product manager. In the practise it means that I am responsible for the development processes of the said products and for getting them ready for customers. As in the thesis work, I don't actually do any encoding (which is a positive thing for all parties).
My responsibility is to manage the long-term picture of the product development attending to that it fulfils customer expectations and Mipro's vision. I direct the subcontractor work, stay up to date with customer needs and handle projects for Mipro. My job is not the easiest one but as I have said earlier, it is good that challengies lay ahead!
Within a year and a half I was able to complete my thesis work and proceed to the position of a product owner. Not a bad start at all for my career path: this makes me look forward to what the future at Mipro will bring.
Read below how and where Aleksi's career path at Mipro started:
"MY JOB WAS CHALLENGING IN A GOOD WAY. I WAS FREQUENTLY FACED WITH NEW THINGS TO LEARN."
I am a student of environmental technology from Lappeenranta University of Technology. At the time of writing, I have worked at Mipro Oy for six months. In the spring of 2016, when companies were conducting their summer job searches, my course was almost completed; the only missing part being the thesis work. My previous work experience consisted of summer jobs as an operator at various waterworks. The same job would have been available for this summer as well, but I had a feeling that such a job in production would not advance my career prospects after graduating as an engineer (M.Sc. Tech.).
Consequently, I turned my eyes elsewhere. At the university recruiting day I came across the company Mipro Oy from Mikkeli, who were presenting their job opportunities. I had never heard of the company before but after a short presentation it seemed to be an interesting company to work for.
After sending an open web application and phoning up persistently several times I received an invitation to attend an interview. Prior to the interview I studied the company's website and noticed that Mipro designs and supplies safety and automation solutions for the management of water and energy works, as well as for railway and metro traffic. I did my best in the interview, and as early as the next day I was offered a job! It would be in an unknown town and in an unknown field, which meant that challenges lay ahead, but that is always a good thing.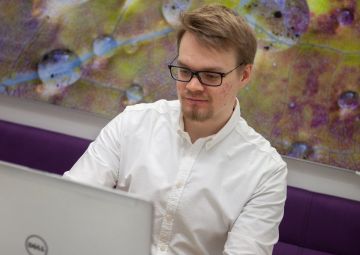 MY JOB PROVED TO BE PLEASANTLY VARIED
My job title was customer service assistant in the life-cycle management services department. I was on call for the customer support phone line – alongside plenty of other tasks as well. I went through, arranged and scheduled the order backlog, invoiced the accomplished work, made reviews of the company's environmental impacts for the environmental review, participated in waterworks reviews and prepared documents and minutes of meetings. The job was challenging in a good way. I frequently came across new things to learn, and I often had to leave my comfort zone.
AT MIPRO, THESIS WORKS ARE NOT BURIED IN THE ACADEMIC MASS OF DATA
In the interview I discovered that Mipro often offers their summer employees a job as a thesis worker. In this area too I was not disappointed. First my summer job agreement was extended by a month until the end of September, and after that I was able to carry on with my thesis work. My thesis work is related to improving the safety systems and continuity management at waterworks. As my subject is practical, it will be not buried in the academic mass of data because it is supposed to be ready for presentation in the near future.
Mipro is a growing and profitable company, and based on my experiences so far, I am very optimistic for the future as well. It remains to be seen where my path at Mipro will lead me.