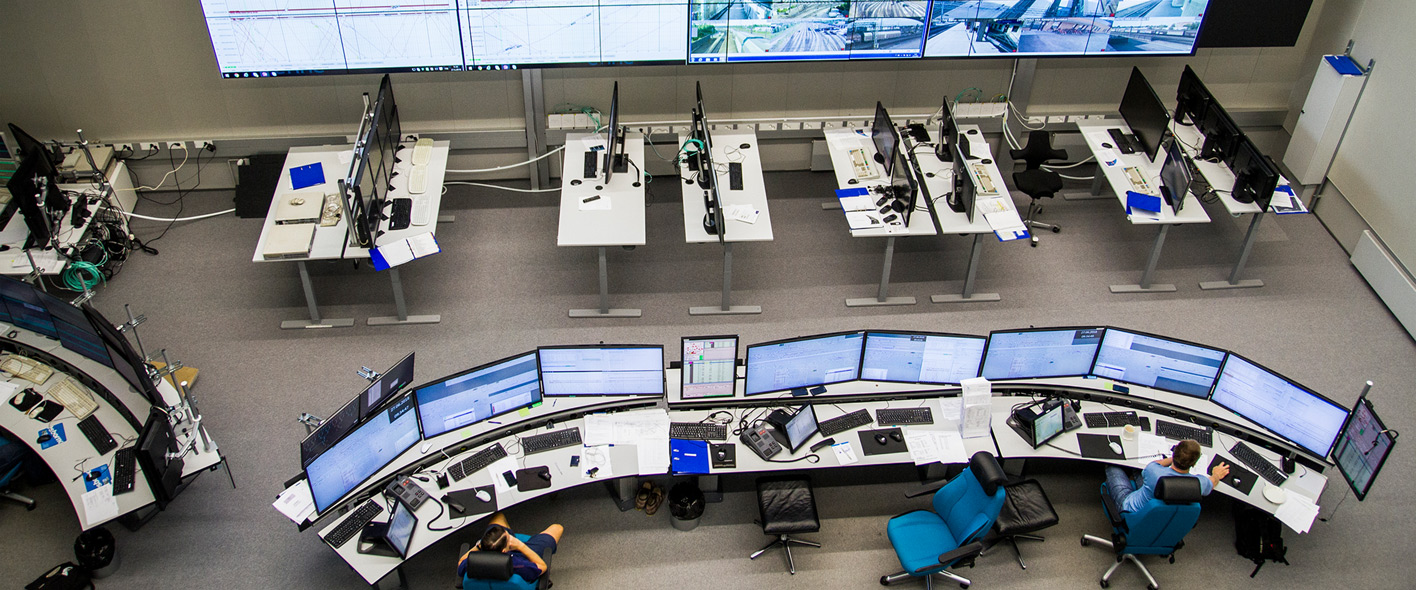 Centralised, computer based traffic management system
Mipro's highly scalable and modular traffic management system ensures reliable and efficient rail traffic flow in all situations. It integrates seamlessly to various types of interlocking systems and provides a unified operational environment, data transmission connections and interfaces for their control.
DYNAMIC CONTROL ENVIRONMENT TO ENHANCE DISPATCHERS' DAILY WORK
Traffic controllers must manage even larger amounts of data in their work as areas to be controlled have become wider. Today a traffic controller's work also requires constant attention and interaction with rail maintenance supervisors, train drivers and shunting work personnel. Consequently, they have to be able to notice abnormal situations and elements immediately and react to them without delay.
Mipro's traffic management system takes the challenges involved in traffic controllers' work into account: it has been designed in co-operation with traffic controllers.
FEATURES
Modular system architecture
Easy integration and adaptation to the existing infrastructure
High availability and constant system development
Unified, user-friendly operations

MIPRO'S SOLUTIONS CAN BE INTEGRATED WITH OTHER SYSTEMS, WITHOUT ANY COMPATIBILITY PROBLEMS.
MODULAR SYSTEM ARCHITECTURE
Thanks to the modular system architecture, Mipro's traffic management system is suitable for both small and large system installations, from a single stand-alone workplace to a fully-integrated control centre. You can build the system in stages and extend its scope and features at any life-cycle stage.
EASY INTEGRATION AND ADAPTATION
The system connects seamlessly with existing systems, processes and equipment. It uses standard data transmission networks to fetch and convey data and integrates seamlessly to interlocking systems implemented with different techniques, both relay and computer based, and originating from different ages.
HIGH AVAILABILITY AND CONSTANT SYSTEM DEVELOPMENT
The system platform is based on field-proven hardware components and software, which guarantees constant and cost-effective system development.
CENTRAL, REMOTE OR LOCAL CONTROL FOR EFFICIENCY
Mipro's system can be controlled centrally from a traffic control centre or via remote control sites. Thanks to the flexible configuration, operation can be centralised in one traffic control centre or distributed throughout a geographically wide area.
CLEAR AND USER-FRIENDLY TRAFFIC VISUALISATION
The system can be operated via a unified user interface regardless of the interlocking system. The user interface includes several display levels from detailed dispatching views to high-level network situation overviews.
DYNAMIC CONTROL ENVIRONMENT
One of the main features of the system is its easy adaptation to different traffic situations. The displays and windows have been designed to be easy to use and they support automatic functions that facilitate dispatchers' work.
When designing the system, the user experience has been taken into account in the first place. Traffic controllers can adapt their workspace to support their needs and work:
Users can modify and save their own views for various operational situations:

for example, the amount of information and the location of control displays and windows can be defined by the user.

Country-specific and interlocking system specific requirements are considered in control displays.
The scope of control displays is designed case by case.
Control areas and user rights are freely definable.
Control views are highly scalable.
AUTOMATIC OPERATIONS REDUCE HUMAN ERRORS
Mipro's traffic management system includes several automatic functions that facilitate the dispatcher's daily work and reduce human errors as well. These functions include automatic route setting, graphical train data from train movements and timetables, and automatic train number function.
The automatic train number function is based on the timetable and route defined for the train.
The system identifies various types of conflict situations and suggests a solution based on route and train priorities.
The routes of automatic route setting are visually shown in the control display. The user can change the route directly from the control display.
Different types of scheduled or event-based functions and sequences can be defined as part of the automatic operation.
A COMPREHENSIVE PRACTICE ORIENTED SIMULATION TOOL
Mipro's Rail Traffic Simulator is a complete simulation tool specially designed for training dispatchers and modelling signalling system functionalities – to ensure safe and smooth railway operations. Furthermore, information received by simulating can be used for traffic planning and optimisation of the track capacity.
Training of simulated failure situations helps dispatchers manage unexpected conflict situations occurring in traffic or infrastructure. Modelling signalling system functionalities enables their accuracy and functionality to be tested in a real traffic control environment prior to commissioning; in other words, to ensure that the train traffic runs according to the set conditions and track geometry.

MODERNISATION OF WESTERN FINLAND'S REMOTE CONTROL,
2014-2019
The operating area under the TAKO traffic management system includes over 10 000 elements to be controlled and monitored; for example 1900 signals and 1250 points. The area covers about 1400 track kilometres.
WEST METRO INTERLOCKING SYSTEM PROJECT 2015-2017
Mipro has installed, among other things nine SIL4-level interlocking systems and 174 signals for the control of West Metro.