Janne Seppänen, Solution Manager, Rail
"THERE ARE NOT MANY JOBS WHERE YOU CAN DEAL WITH SUCH COMPREHENSIVE TECHNOLOGIES."
Janne works currently as a Solution Manager in Mipro's rail sales team on metro and railway traffic customer projects. He is responsible for versatile sales support tasks including the definition of signalling and traffic management systems to be delivered to the customer and their integration to other existing customer systems.
Earlier Janne worked as a service engineer in the Maintenance and After-Sales services unit and was responsible, with his colleagues, for the maintenance of the railway systems delivered by Mipro. His job was varied and includes on-call work, reviews, system upgrades and reporting; in other words, work at the computer and on the field. Janne came to Mipro to complete his diploma work for his electrical engineer examination in January 2009 and stayed on.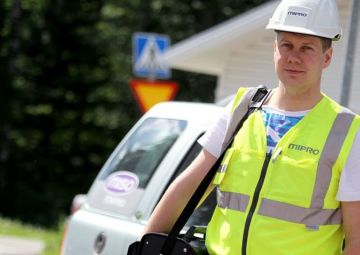 "My work is full of variety. When you are on duty, you don't know in the morning what the day will bring," says Janne. In addition to being on-call during the day, Janne participates in round-the-clock duties that take place every tenth week. It means he has to be on alert 24 hours a day for one week. "On-call work has advantages and disadvantages. The best is that you learn new things about systems and peripheral devices all the time. It is also rewarding when you are able to clear a failure situation."
In the reviews, Janne systematically visits and checks train lines and device facilities to track eventual faults before they cause damage. As a background for these reviews, he collects, on the basis of log files, reports on matters that need to be checked more accurately in the field. His third area of work involves system upgrades and modifications that are made when necessary.
Janne is motivated by the comprehensive technologies involved in railway system maintenance. "It includes both really old and totally new. There are not many jobs where you meet such varied technologies and comprehensive system solutions. It is challenging and interesting to be involved in maintaining such an entity."
You cannot learn railway technology directly at school. Janne considers it a great benefit that he can combine knowledge gained from his studies in electrical engineering and data processing. "The job can get stressful," laughs Janne. "Connecting new equipment to the old environment does not always go right first time. Fortunately the working environment at Mipro is open; you can ask for advice and you will always get help."