Mipro Oy has entered into an agreement with the Finnish Transport Agency on the renewal of a signalling system for the Kotka marshalling yard in eastern Finland. Mipro's scope of delivery includes the signalling system from control locations up to track equipment for the Kotka operating points Hovinsaari, Tavara, Asema and Satama.
The project will start in the early summer of 2018 and will be completed by the end of 2019. The total value of the marshalling yard project is 12 million euros of which the share of Mipro's signalling system contract is 3.1 million euros. The Kotka marshalling yard signalling system is part of FTA's signalling renewal projects, and a so-called additional funding target. Mipro's and FTA's previous contract covers the renewal of signalling systems for Niirala, Kotolahti-Mussalo in Kotka, and Vainikkala marshalling yards. The first of these marshalling yard renewals was commissioned in the beginning of December in 2017, the next two ones will be commissioned during this year.
"The goal of the signalling renewal projects is to enhance traffic operations and improve safety. We highly appreciate the possibility to continue to be involved in the modernisation of eastern Finland's marshalling yards and in the development of Finnish rail traffic on the whole," says Mrs. Suvi Hyyryläinen, Director, Projects at Mipro.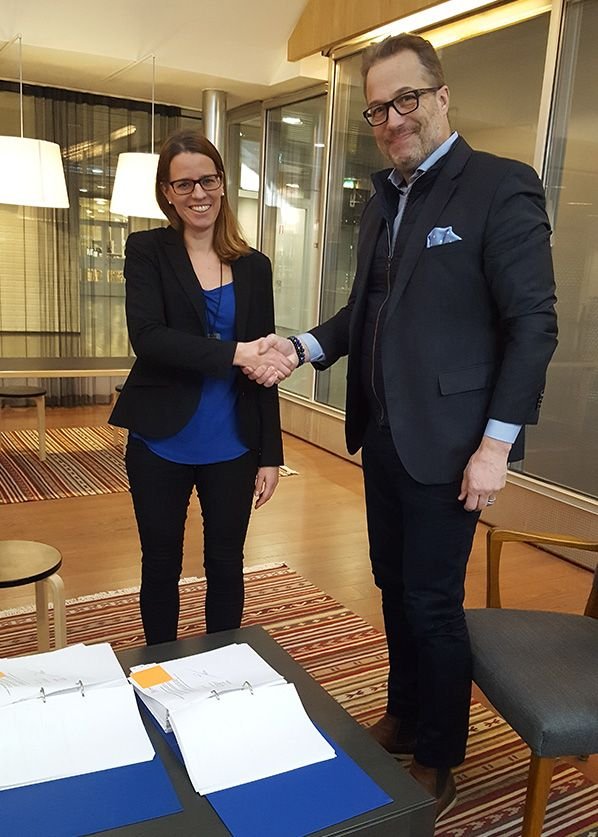 Mrs. Maria Torttila, head of unit at the Finnish Traffic Agency and Mr. Juha Nurmi, managing director at Mipro Oy in the signing ceremony of the Kotka marshalling yard signalling system project on 22nd of February, 2018.
Mipro is specialised in railway and industrial systems. Our systems are used in safety management in railway and metro services and industry processes as well as in controlling processes in water and energy management. Mipro is a fast growing company headquartered in Mikkeli, Finland. We operate in the global market, including Eastern Europe and the Middle East. Our customers include the Finnish Transport Agency, Helsinki City Transport and numerous companies in the utilities sector.
Mipro aims at being the most reliable and well recognized expert in safety related systems within its region. We are targeting a significant increase to our turnover within the upcoming years