The company continuEs strong performance on the Finnish railway network
Mipro Oy has entered into an agreement with the Finnish Transport Agency on the Ylivieska marshalling yard signalling system project. The project includes the renewal of the interlocking system and safety equipment controlled by it. Mipro will deliver for the fourteen track marshalling yard a SIL4-level interlocking system that complies with the current regulations and requirements and thus improves the safety and availability of the marshalling yard.
In Mipro's turnkey delivery scope the new interlocking system will replace the existing relay-based interlocking system and it will be implemented without disturbing the traffic on the Ylivieska station during the project. The project will be commenced immediately and the new signalling system is scheduled to be available for traffic by the end of 2019.
"The Ylivieska marshalling yard complements the signalling systems Mipro has delivered to the Kokkola–Ylivieska double track and shows our continuous strong performance on the Finnish railway network. The signalling system solution Mipro has developed for the marshalling yards in eastern Finland will be used for the Ylivieska marshalling yard renewal as well," says Juha Nurmi, Mipro Oy's Managing Director. The Ylivieska marshalling yard includes 14 tracks and it has been controlled by the LM Ericsson relay group interlocking system. The new Kokkola–Ylivieska double track starts from the southern side of the marshalling yard; the single tracks operate to the east, to the town of Iisalmi and to the north, to Oulu. There are both passenger and freight traffic on the marshalling yard. The marshalling yard will be connected under the remote control in the project.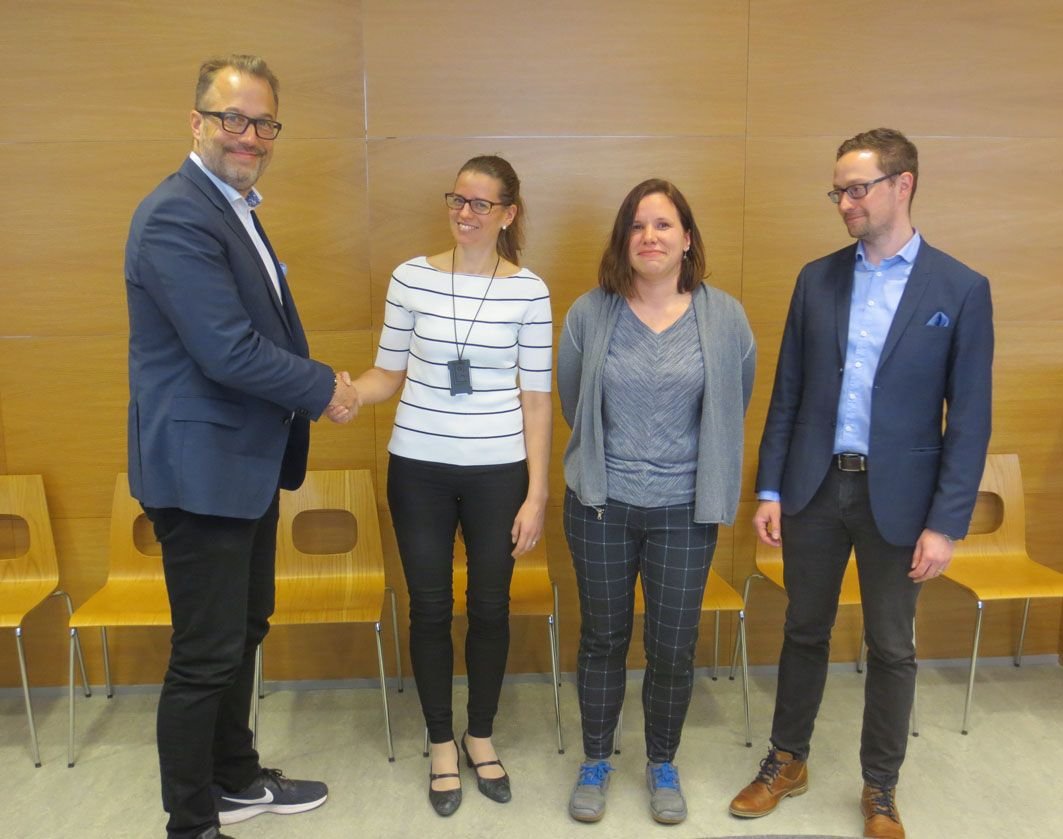 Mr. Juha Nurmi, Managing Director at Mipro Oy (left), Mrs. Maria Torttila, Head of Unit at the Finnish Traffic Agency, Mrs. Suvi Hyyryläinen, Director Projects at Mipro Oy, and Mr. Juha Lehtola, Project Manager at FTA in the signing ceremony of the Ylivieska marshalling yard signalling system project on 4th of May, 2018.
Mipro is specialised in railway and industrial systems. Our systems are used in safety management in railway and metro services and industry processes as well as in controlling processes in water and energy management. Mipro is a fast growing company headquartered in Mikkeli, Finland. We operate in the global market, including Eastern Europe. Our customers include the Finnish Transport Agency, Helsinki City Transport and numerous companies in the utilities sector.
Mipro aims at being the most reliable and well recognized expert in safety related systems within its region. We are targeting a significant increase to our turnover within the upcoming years